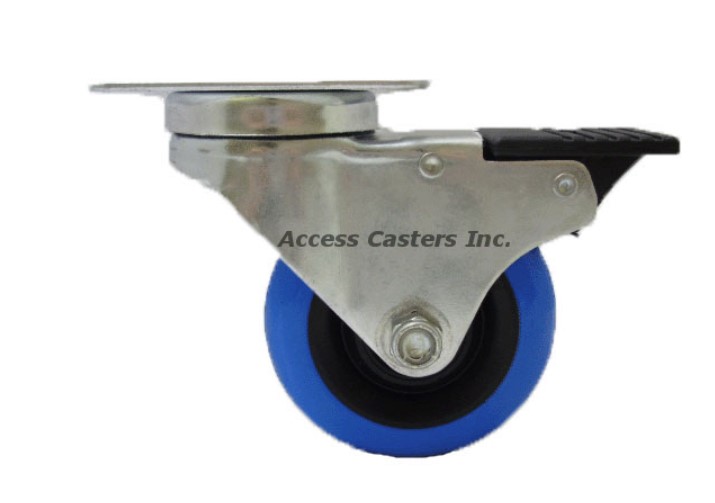 Whatever reason you choose to go with a caster, you probably are trying to make something move. You could want to mobilize something heavy or improve your workflow. However, it is also probably important that you stop your equipment from moving. When you find yourself needing a stationary space, you'll find yourself engaging your locking device. That said, it can be tough to choose the best lock for your needs. Here's a brief overview to help you decide. 
Locking Caster Vs. Floor Lock
The first thing to think about is whether locking casters or floor locks are better for your operation. To decide this, you need to know the difference. A floor lock is an extra part that you add to your caster. The device will lift your equipment when you engage them via the foot pedal. That will keep it stationary until you disengage it. These are very common when you need absolutely no movement or have an unlevel floor. 
On the other hand, a locking caster is simply one that has a brake on it. Engaging the lock prevents the wheel from spinning. These are ideal when trying to keep a piece of equipment stationary, but you will not be putting a lot of force on it. 
Standard Floor Lock
A standard floor lock is the most basic design but still allows you to meet government safety regulations if you need to worry about stationery equipment. These are generally intended to level surfaces and don't adjust in height. 
Double-Pedal Floor Lock
The double-pedal floor lock is comparable to its standard counterpart except for one crucial safety feature. It requires you to press two pedals to disengage it. Additionally, these types are often more durable than the standard. 
Heavy-Duty Floor Lock
If you deal with heavy items, you should consider the heavy-duty floor lock. These can handle a lot of weight. Most of them can hold 1,000 pounds per lock, and they still are easily engaged with a foot pedal. Plus, you don't have to worry about compromising because they can still handle many wheel sizes. 
Locking Caster 
Unlike a floor lock, you can use the locking caster in the harshest conditions. They are engaged by pressing a foot pedal that puts pressure on the wheel to keep it from turning so your cart doesn't roll away. 
There are tons of caster styles out there. Plus, there are many more floor lock options. The exact one that meets your needs depends on your budget, industry, and load. Be sure to check out all of your options to find your best match. 
Related Posts