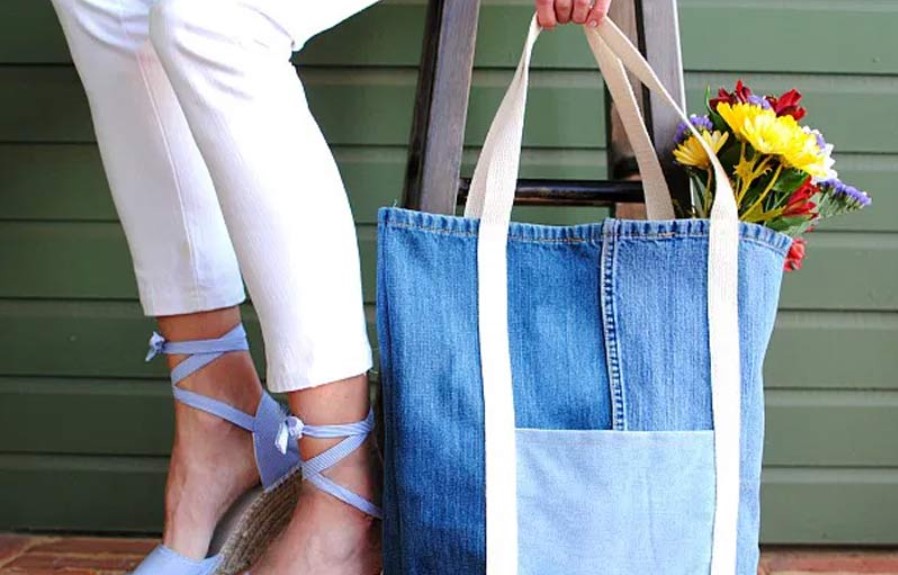 Do you have scraps of fabric or materials lying around that you're not sure what to do with? Are you looking for a way to repurpose them into something useful? Why not try making your own tote bag from the material? Making your own tote bag can be a fun and creative project. Plus, it's an eco-friendly way to reduce waste and encourage upcycling. In this blog post, we'll explore DIY projects for making your own tote bags from old fabrics and materials. So whether you're looking for a stylish addition to your wardrobe, or an environmentally conscious gift idea, read on for some great ideas!
Materials needed for tote bag DIY projects
There are a few things you will need in order to make your own tote bag. Firstly, you will need some fabric. This can be old clothes, sheets, or anything else you have lying around that you don't mind cutting up. You will also need a needle and thread, scissors, and something to use as a handle (such as an old belt or strap).

If you want to add any embellishments to your bag, such as pockets or appliques, you will need additional materials for those as well. However, the basic tote bag can be made with just the fabrics and a few simple tools. So gather up your materials and get ready to start sewing!
How to make a tote bag from old fabrics
If you have a stash of old fabrics and materials sitting around, put them to good use by repurposing them into new tote bags! This is a great DIY project that can be easily done at home with some simple supplies.

Here's what you'll need:
Old fabrics (cut into pieces that are approximately 18″ x 22″)




Sewing machine and thread




Scissors




Pins




Tote bag handles (can be purchased online or at a craft store)
First, cut your fabric pieces down to size. Then, start sewing the side seams of the tote bag together, using a straight stitch. Once the side seams are sewn, sew the bottom seam of the bag shut. Next, attach the handles to the bag using either a sewing machine or by hand stitching. Finally, give your newly made tote bag a good pressing and it's ready to use!
How to make a tote bag from old materials
If you have some old fabric or material lying around, put it to good use by upcycling it into a new tote bag! It's a fun and easy project that anyone can do, and you'll end up with a stylish and sturdy bag that's perfect for carrying your things. Here's how to do it:

Cut your fabric or material into two rectangles, each measuring 18 inches wide by 22 inches long. If you're using a patterned fabric, make sure the pattern is facing inward so it will be hidden when the bag is finished.




Sew the two rectangles together along the 18-inch sides, using a 1/2-inch seam allowance. Press the seam open with an iron.




Fold down the top edge of the bag by 1 inch, then again by another 1 inch, and stitch in place to create a hem.




Create handles for the bag by cutting two strips of fabric or material that measure 2 inches wide by 22 inches long. Fold each strip in half lengthwise, then sew along the long edge and one short edge to create a tube. Turn the handles right-side out and press flat with an iron.




Pin the handles to the inside of the bag (at the side seams), making sure they're evenly spaced and positioned about 7 inches from the top edge of the bag. Sew them in place with a 1/2-inch seam allowance
Tips for repurposing old fabrics and materials into new tote bags
If you're looking for a creative and eco-friendly way to repurpose old fabrics and materials, why not try making your own tote bag? Tote bags are great for carrying around everything from groceries to beach supplies, and they can be easily made with a few simple supplies.

Here are a few tips for repurposing old fabrics and materials into new tote bags:

Start by choosing a sturdy fabric or material for the base of your bag. An old denim jeans makes an excellent choice, as does heavy-duty canvas.




Once you've selected your fabric, cut it into the desired size and shape for your tote bag. If you're using a sewing machine, be sure to use a heavy-duty needle and thread to avoid tearing the fabric.




To add extra durability to your bag, consider reinforcing the handles or bottom with a piece of leather or suede. This will also help prevent the fabric from fraying over time.




Finally, personalize your bag with any embellishments or decorations you like. Sew on a patch or applique, add some fringe or beads, or simply stitch your initials onto the front of the bag.
Conclusion
Tote bags are a great way to repurpose old fabrics and materials into something new and stylish. By taking on some of these DIY projects, you can create unique tote bags that fit your style perfectly. With the various tutorials available online, it's easy for even beginners to create beautiful and functional totes. Have fun with this project and let your creativity shine!
Related Posts