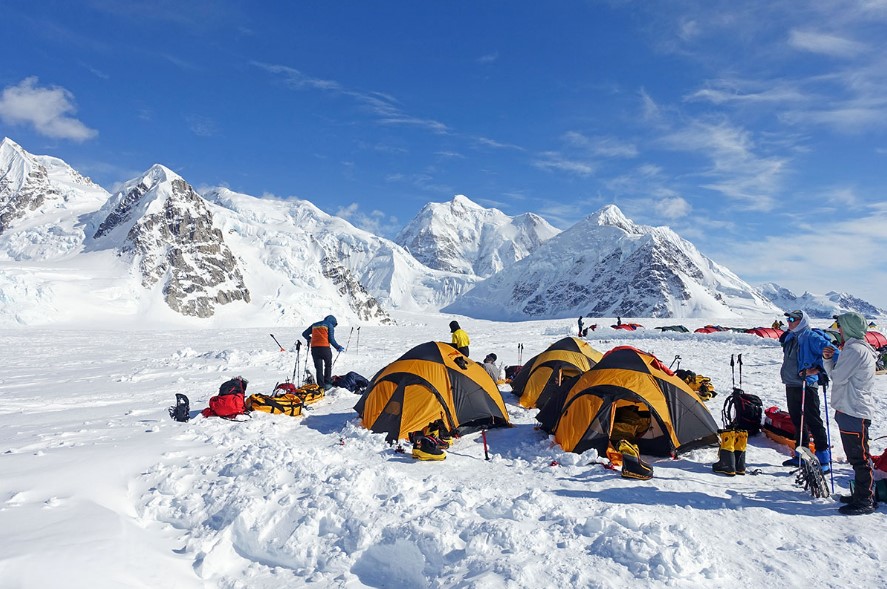 The best cold-weather tents offer insulation and protection from the elements. Often double-walled, these insulated tents are crafted from sturdier materials than 3-season tents and can withstand heavy rain and winds in the winter.
They're also ideal for basecamp, as they can house 1-3 people and have plenty of space to sleep comfortably while waiting out a storm. These tents are designed for mountaineering and backpacking.
Hilleberg Jannu
The Hilleberg Jannu is an ideal tent for backpacking and mountaineering trips where lightweight is a priority. It is a semi-geodesic design and uses the highest quality materials available.
Using Kerlon 1200 outer tent fabric and 9-mm poles provides high strength and stability for the weight. It does lack a porch, which some people may find helpful, but that is the price you pay for such a light and compact design.
Internally, the tent is spacious and has good venting options. The roof has v-shaped vents that can be opened fully to provide excellent airflow or left zipped halfway to allow less humid tent air. The front door is also asymmetrical in shape and slopes shallowly so that the tent occupants are protected from the wind in whatever direction it is blowing.
Mountain Hardwear Trango 2
For a good reason, the Trango 2 is one of the most popular mountaineering insulated tents. This burly shelter is built to withstand Himalayan-caliber storms, and it's the perfect choice for arctic expeditions and high-altitude summit pushes.
Like the Hilleberg Jannu above, this tent can be pretty pricey. Still, the premium materials and attention to detail make it worth the cost for most backpackers who intend to use their tent in extreme conditions. And while it's not fully waterproof, the durable Kerlon fabric and tunnel-shaped design provide remarkable stability and protection in the harshest weather.
While the Trango 2 is heavy and bulky, it's designed as a basecamp tent, so it can be divided between two people. Accurate ounce counters, however, will want to look at Big Agnes' more lightweight offerings, including the Battle Mountain line of tents specifically aimed at serious winter backpacking objectives.
Crua Cocoon
The Irish brand Crua Outdoors has developed insulated tents capable of weather extremes, including frigid temperatures and high winds. Their latest innovation is the insulated Cocoon, which can be zipped inside a Crua Duo or Core tent to provide warmth and protection from the elements.
The Cocoon is made from breathable materials and has patented insulation technology that can regulate the temperature of the shell tent. It also blocks out light and dampens outside noises for a more restful sleep.
The Cocoon is available in a 2- or 4-person version and can be set up in minutes using the airframe structure (air pump not included). It also provides a lot of ventilation and has multiple inner windows that can be zipped closed if needed.
Crua Cocoon Maxx
Crua Cocoon Maxx is a bigger version of the original Cocoon. Its patented TT insulation blocks out bright light, dampens intrusive noises, and regulates your tent's interior temperature. It can be used within any shell tent spacious enough to fit it and transform it into a true four-season insulated tent.
The Irish designers of this revolutionary camping tent knew they had to develop a shelter that was more than just a sleeping bag, and they succeeded. Its breathable polycotton inner lining, B3 bug mesh, and jumbo zippers all contribute to its superior comfort level.
The Cocoon Maxx is easily portable and can be deployed in 60 seconds. Its modular design makes it suitable for backpacking and mountain climbing.
Geertop Four-Season Tent
This is an excellent choice if you're looking for a 4-season tent for snowshoeing, alpine climbing, or just camping in sheltered areas below the treeline. It's super lightweight and packs down to a small size. Plus, it has many features that make life much easier and more comfortable.
This tent is also great for backpacking since it doesn't require a large carrying bag. It's easy to set up and has room for two people and their gear. It's also very affordable, considering the quality and features you get.
However, remember that this tent could be a better fit for harsh winter conditions where the campsite would be exposed above the treeline. The Toproad is better suited for sheltered below-treeline camping in cold weather.
Related Posts