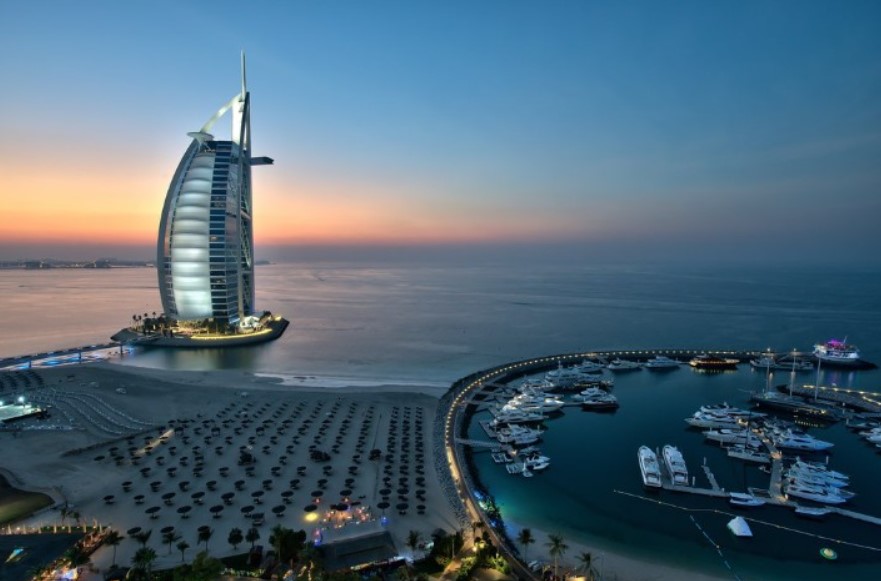 Do you know the reasons for visiting Dubai and make it a reference for your vacation with your family? Don't miss the Package Tour Indus Travels, an international tour operator that offers value holiday packages to more than 80 amazing destinations around the world. Check out these affordable tours to Dubai, Abu Dhabi, and more. Dubai is a cosmopolitan city of unique diversity located at the crossroads of Europe, Asia, and Africa. Dubai is renowned for its diversity and attractiveness in terms of the availability of stunning infrastructure as well as luxury hotels, conference facilities, restaurants, shopping, and entertainment.
As one of the most luxurious countries in the world, Dubai has many unique buildings that are not only attractive but also full of innovation. The reasons to visit Dubai is the best tourist destination.
•Discover a Mix of Old and New
Dubai promises something for everyone – there are so many reasons to visit Dubai from travelers looking to unwind from the hustle and bustle of the city, romantic getaway, or family getaway, to those looking for a cultural or gastronomic adventure.
•See the Tallest Buildings in the World
Dubai has built the Dubai Dynamic Tower. The building is one of the most sensational skyscrapers in Dubai. The first tower in the world where each floor can rotate 360° horizontally at different speeds between one floor and another. These features make this tower one of the reasons to visit Dubai because it is the most prestigious building in the city. Other famous magnificent buildings are the Burj Khalifa, Burj Al Arab, Dubai Marina, and Palm Jumeira increasingly attract tourists to see these special buildings.
Burj Khalifa is the most popular place in Dubai. At 828 meters high, the Burj Khalifa holds several records at once: the world's tallest building (163 floors), the world's tallest observation decks (148), the world's tallest restaurant (122nd floor), and the world's fastest elevator (16.7 m/s). Apart from being used for offices and residences, the Burj Khalifa is an exhibition center for thousands of the best works of art from various talented artists from all over the world.
•Admire Buildings That Are Very Unique
Dubai Frame is said to be the number one newest building in this luxurious country. The unique design of Dubai Frame was coined by Fernando Donis, a renowned architect who has ambitions to build a simple, unusual building that can become a symbol of the new face of Dubai. At Dubai Frame which is located in Zabeel Park, you can see various sides of Dubai from a height of 492 floors which is a reason to visit Dubai.
•Discover the Powerful Palaces
Early March 2019 seemed to be a historic day for Abu Dhabi. The reason is, this month, the Abu Dhabi Presidential Palace was opened for the first time to the public. Visitors can walk around and admire every detail of the palace from up close. Its famous splendor can be seen at close range. Visitors are allowed to enter the rooms at Qasr Al Watan. Seeing the splendor of The Great Hall which is in the center of the building is a reason to visit Dubai. In the western part of the palace, visitors can also see a collection of diplomatic gifts from various countries.
•Ride On the Dunes in the Arabian Desert
Adventurers will surely fall in love with this city. Do you dream of flying in the sky or crossing a zip line? Dubai has it all. Reasons to visit Dubai let's start with the natural scenery. The vast desert is the best place to try adventure. Dune bashing, sandboarding, camel riding, and quad biking are some of the most popular activities in the desert. Go on a desert safari to try all these exciting activities. Not only that, but Dubai also has Wadi Wadi, Aquaventure Waterpark, Ski Dubai, Motiongate, and other Theme Parks which are popular places for an adrenaline rush.
•Mix Mega Malls and Luxury Restaurants
With an area of ​​3.7 million square meters, Dubai Mall is listed as one of the reasons to visit Dubai because it is the grandest mall in the world which is filled with 1,200 high-end retail outlets, 2 well-known department stores (Galeries Lafayette and Bloomingdale's), as well as 200 of the best places to eat/drink. Not only that, but Dubai Mall also has the Dubai Aquarium & Underwater Zoo that will amaze anyone, the super-spacious KidZania, the luxurious Reel Cinemas cinema, and the Dubai Ice Rink whose size follows Olympic standardization.
•Get a Taste of the Great Entertainment
The reason for visiting Dubai offers tantalizing and tantalizing options. The city is also known for its nightlife and entertainment, where you can relax in a quiet beach club or watch the world's most exciting horse races. Jumeirah Beach is the most famous beach in Dubai. This beach stretches up to 7 km, is divided into seven beaches and each beach stretches for kilometers. 2 of the 7 beaches merge in each of Jumeirah Park and Wild Wadi. Around this beach, you can find luxury restaurants with special dishes and other interesting entertainment places.
•Really Learn About Arabian Culture
The reason for visiting Dubai is to get to know Islam and Emirati culture. This is a cultural tour that is packaged in an interesting way. In Abu Dhabi, visitors will be more in touch with the local culture, being around locals more often. This is the best place to see Emirati costumes, clothing, and traditions. Whereas in Dubai one is most likely to be surrounded by ex-pats and other tourists, Abu Dhabi offers a more traditional experience. The historic old town of Al Fahidi in Dubai, United Arab Emirates. In this place, tourists of all nationalities and religions can learn about Islam, Dubai's culture, and customs. Tourists of all nationalities and religions can learn about Islam, Dubai's unique culture, and customs. A historical site worth a visit is the Jumeirah Mosque which was built by the Fatimid dynasty in the Middle Ages. The mosque has twin towering minarets framing the large central dome of the Jumeirah Mosque, which provides a unique opportunity to see intrinsic Islamic art up close.
•Check Out the Legendary Dubai Expo
The World Expo is a prestigious show that brings together countries around the world to showcase their latest discoveries in building a better future for survival. Showcasing a variety of quality product opportunities, including tourism and investment that are packaged in various information content by utilizing attractive and futuristic communication media technology. This is the reason for visiting the Dubai Expo, occupying a strategic location of 438 hectares which will be divided into three zones, namely Opportunity, Mobility, and Sustainability. The location of this expo is also near three international airports, namely Dubai International Airport, Al Maktoum, and Abu Dhabi Airport.
Are you thinking about planning your next big trip to Dubai and Abu Dhabi, or other exotic destinations around the world? Reach out to the Indus travel experts, who will be happy to answer any questions you may have about traveling during COVID-19 or give you personalized tips and recommendations for your dream vacation. With hundreds of packages to over 80 destinations around the world, you can rest assured they will be able to find your perfect fit. You can even ask them about their Safe Travels Assurance Policy for risk-free bookings during COVID-19.
Related Posts