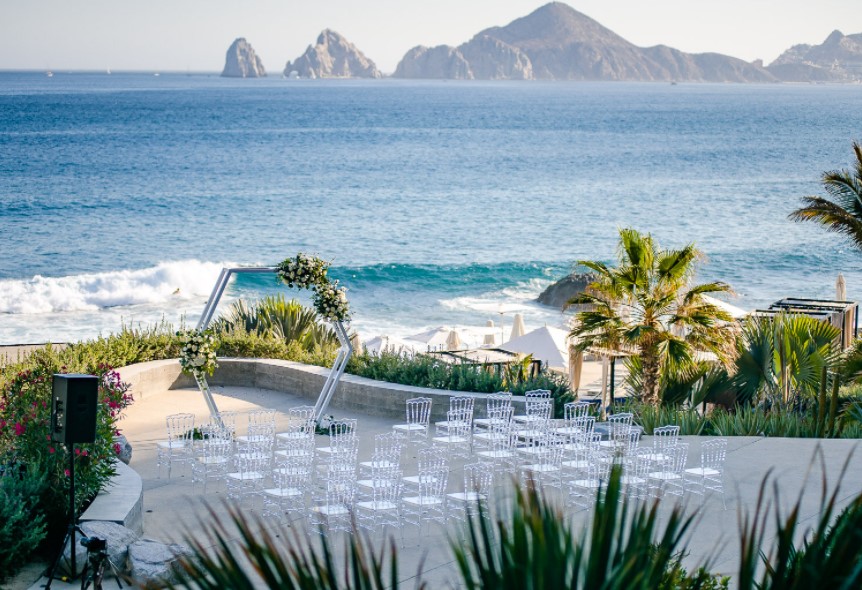 There are many reasons why couples opt for an extravagant wedding. One of the most common reasons is because they want to celebrate in style. They want a memorable occasion so they are willing to pull all the stops to make it extra-special.
One of the best ways to make your special day even more special is by booking a destination wedding in Cabo. Destination weddings are becoming popular among couples nowadays because it's a great way to spend a vacation and some money.
Cabo is a very sought-after wedding location. The weather is almost always cooperative and the beaches are always beautiful all year round.
If you're thinking about a destination wedding, we have some extravagant Cabo resorts for beach weddings. 
Ritz Cabo
The Ritz has always been synonymous with luxury. The same is true when you visit Ritz Cabo. This luxury hotel located just 20 minutes from Los Cabos International Airport, is one of the best places to host an extravagant and bespoke wedding.
First of all, you can exchange vows right on the beach. The resort has spaces that can even accommodate up to 400 guests. After the ceremony, it's an easy transfer to the garden for dining and reception. 
Speaking of dining, the hotel has some unique dining options. El Barrio is inspired by the traditional Mexican market where you can get to sample dishes like quesadillas, Baja-style tacos, and a raw seafood bar. 
Equis is more private and features an adult-only pool. You can enjoy ocean to table dishes here like ceviches and the catch of the day.
The hotel is 200 acres and features a golf course, 4 outdoor pools, restaurants and a full-service spa. You can easily have a wedding weekend and honeymoon in the hotel. 
The rooms are sprawling terraces, decorated with high-end Mexican crafts and stunning beach views. When you visit the Ritz at Cabo, you might not want to leave.
Four Seasons Cabo
If you want a crowd-free wedding weekend, the Four Seasons Cabo is located 45-60 minutes away from San Jose del Cabo, making it a secluded venue for your special day.
The Four Seasons scream luxury. It features an 18-hole golf course, 2 miles of swimmable white sandy beaches, 6 pools, a fitness center, wellness spa and an exclusive marina. These amenities will make your wedding stress-free and relaxing.
The resort has 6 restaurants and bars, so there is something for everybody. For example, Ginger's is a cafe that serves eclectic fare like Baja beer, smoothies and gelato. Estiatorio Milos meanwhile is an upscale restaurant that serves Mediterranean food.
Weddings at the resort can be indoors, outdoors or both. Welcome parties or rehearsal dinners can be hosted at the beautiful Ballroom Terrace where guests can enjoy family style dinners and luxurious lounges. The Grand Ballroom and Cortez Room are good choices for your reception.
The amenities of the hotel are luxurious and extravagant at the same time. You and your guests can go whale watching or sport fishing. You can also go on a guided hiking tour of Sierra de la Laguna Mountains, local waterfalls and hot springs.
But perhaps the most extravagant treat is to rent a yacht at the private marina for a romantic and adventurous cruise or snorkeling expedition.
Montage Los Cabos
Montage Los Cabos is a luxury resort that boasts cozy guest rooms, amazing suites, spacious townhouse and multi-bedroom casas. Enjoy floor-to-ceiling glass walls and huge patios with amazing views of the sea.
You can access Santa Maria Bay and enjoy the white sand beaches through an exclusive walk-up. There are also swimming pools where you can rent a cabana and enjoy a day of pampering from your private server.
Other amenities include a golf course, spas and restaurants where they serve world class dishes like brick oven pizzas, tacos, salad, seafood, aged meats and vegetarian options.
Getting married in Montage Los Cabos is like a fairytale come true. Enjoy clue waters, romantic sunsets, ocean front landscapes and huge ocean-view lawns for your seaside celebration that can host up to 400 people.
But perhaps the most extravagant perk of hosting a wedding at this resort is the exclusivity. They only cater to one wedding for the day, ensuring that you get the focus, privacy and special treatment you deserve
Chileno Bay Resort
Your dreams of a coastal desert wedding can come true at the Chileno Bay Resort. There are many rooms to choose from such as oceanfront villas and sophisticated guestrooms. Rooms have their own private terrace, spacious bathrooms and comfortable beds.
Your wedding party will feel at home inside the Brisa del Mar, a six bedroom oceanfront villa that can accommodate up to 12 people. Benefits of this 11,000-square-feet of luxury living space include: private pool, oceanside fire pit, indoor and outdoor kitchens, butler service and a rooftop terrace with unimpeded ocean views. 
Dining at the resort is diverse. You can enjoy regional flavors and traditions like corn and sea bass ceviche at Comal. But if you feel like tacos and crispy fried shrimp, then head over to TnT the beachside taco bar.
For a relaxing afternoon, you can enjoy the spa or go swimming at their pools. You can also play golf, explore San Jose del Cabo or tour the Baja outback. 
Couples can choose different venues for their Chileno Bay Resort wedding. For example, the Chileno Terrace  has an ocean view terrace and pergola just along the edge of the Sea of Cortez for a romantic sunset ceremony. La Playita is the resort's own secluded beach where you can say "I do" among the waves.
Esperanza Resort
Make your wedding extravagant and unforgettable with a cliffside wedding at Esperanza Resort. Located just 20 minutes from Los Cabos International Airport, you and your guests will love the restful and luxurious atmosphere of the resort.
Esperanza has unique dining options. For instance, Las Estrellas is beachy, family friendly and their wood fired pizza is very delicious. Cocina del Mar on the other hand is on top of a craggy cliffside. Guests can enjoy a personal dining experience while watching chefs at the outdoor kitchen and nibbling on Baja bites and sipping regionally-inspired cocktails. 
The resort also offers wellness treatments at their spa to unwind after your travels and a fitness center to sweat off all those cocktails.
Couples can host their weddings at 4 different venues at the resort. Each venue has its own unique charm and beauty. For example, La Terraza Americana is great for casual outdoor weddings. It is located near the infinity pool. For something more private, Land's End Terrace is perched on a cliff with romantic views of the ocean. 
Bottom Line 
Hotels and resorts at Cabo are ready to host your extravagant wedding. If you don't know which hotel to choose, you can consider your theme and preferred hotel amenities to make your decision easier.
Related Posts